Hi!
I received a copy of Holding Up The Universe by Jennifer Niven for an honest review via Netgalley, I will be discussing my thoughts and feelings on this novel. However, I will not be including any spoilers so that anyone can find out a bit more about this book and perhaps be motivated to read it as well!
---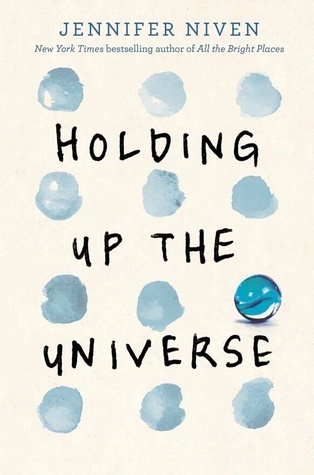 Holding Up the Universe
author: Jennifer Niven
number of pages: 391
published: October 4th 2016
genre: contemporary
my rating: 5/5 stars
synopsis:
"Everyone thinks they know Libby Strout, the girl once dubbed "America's Fattest Teen." But no one's taken the time to look past her weight to get to know who she really is. Following her mom's death, she's been picking up the pieces in the privacy of her home, dealing with her heartbroken father and her own grief. Now, Libby's ready: for high school, for new friends, for love, and for every possibility life has to offer. In that moment, I know the part I want to play here at MVB High. I want to be the girl who can do anything. 
Everyone thinks they know Jack Masselin, too. Yes, he's got swagger, but he's also mastered the impossible art of giving people what they want, of fitting in. What no one knows is that Jack has a newly acquired secret: he can't recognize faces. Even his own brothers are strangers to him. He's the guy who can re-engineer and rebuild anything, but he can't understand what's going on with the inner workings of his brain. So he tells himself to play it cool: Be charming. Be hilarious. Don't get too close to anyone.
Until he meets Libby. When the two get tangled up in a cruel high school game—which lands them in group counseling and community service—Libby and Jack are both pissed, and then surprised. Because the more time they spend together, the less alone they feel. Because sometimes when you meet someone, it changes the world, theirs and yours."
---
I really enjoyed reading this book, it contained so many things I love to see in a novel; character development, romance (but not too much) and humor.
I loved that this book touched upon so many important issues, such as; body image, mental health, and bullying. Honestly this book had a lot of representation in it and it's just amazing.
There are so many things I loved about this novel, I loved some of the little things that characters said or did. Something that really stood out to me is the fact that Dusty, Jacks younger brother, carries around a purse because they want to. Dustys' response to Jack trying to get him not to take the purse with to school is one of the most beautiful things in the entire world.
" "You won't be. I just wanted to . . . Are you sure about the purse, little man?""I like it. I can fit everything in here.""I like it too. It's a really damn cool purse. But I'm not sure everyone's going to dig it as much as we do. There might be some kids here who are going to be so jealous of that purse that they'll make fun of you." I see about ten of them walking past us right now. "They won't be jealous. They'll think it's weird.""I just don't want anyone to be rough on you.""If I want to carry a purse, I'm going to carry it. I'm not going to not carry it just because they don't like it." "
One of the other little things I really liked is the fact that Jennifer Niven brought up the way teenagers look in television shows versus what they actually look like.
"no one looks as shiny and polished as they do in the TV and movie versions of high school. Real teens aren't twenty-five years old. We have bad skin and bad hair and good skin and good hair and we're all different shapes and sizes. I like us better than our TV selves"
It's little things like this that make me love a book so much more.
I really enjoyed the way that the novel talked about body positivity, I loved all the little things that made me feel so many different emotions. There were parts where I would start crying because other kids can be so mean, and parts where I would feel so happy just because we got to see Libby not caring about what anyone thought of her because of the way she looked.
I really enjoyed learning about prosopagnosia, I'd never heard of it before reading this novel and I actually ended up doing some of my own research into the disorder after I finished the novel just to find out more about it (the novel already covered it in quite a bit of detail but I just like to know almost everything I can on something that interests me). Things like this remind me that there are so many different things that affect people who just aren't seen in the media.
Lastly I'd like to discuss this book when compared to All The Bright Places. Both of these books are stand alone, and I shouldn't make comparisons between Holding Up The Universe and All The Bright Places but I want to just touch upon this briefly. I didn't really enjoy ATBP, I wasn't certain if I did or didn't enjoy it. Now after reading Holding Up The Universe I realise why I enjoyed this book so much more, I feel that this is because Holding Up The Universe focused more on the individual characters and their development over the course of the novel rather than the romance/romantic relationship between the characters. If you didn't enjoy All The Bright Places and are unsure if you want to read Holding Up The Universe I can assure you that the focus of this novel is different to that in All The Bright Places.
I honestly really enjoyed reading this book and seriously recommend that you all plan to read this book in the near future.
Let me know what you thought of this book in the comments
Yasmin xx