Hi!
this book was one of the first books I read this year and I really enjoyed it. it did come out a few years ago (five years to be exact) and I thought it'd be a good idea to let you all know how I felt about it to encourage you all to read this book, just in case you haven't yet.
---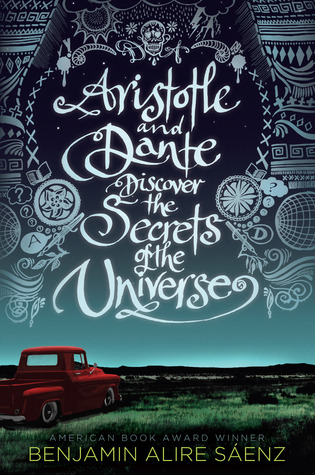 Aristotle and Dante Discover the Secrets of the Universe
author: Benjamin Alire Sáenz
number of pages: 359
published: February 21st, 2012
genre: contemporary
my rating: 5/5 stars
synopsis:
"Aristotle is an angry teen with a brother in prison. Dante is a know-it-all who has an unusual way of looking at the world. When the two meet at the swimming pool, they seem to have nothing in common. But as the loners start spending time together, they discover that they share a special friendship—the kind that changes lives and lasts a lifetime. And it is through this friendship that Ari and Dante will learn the most important truths about themselves and the kind of people they want to be."
the book follows our main characters, Aristotle and Dante, for two years, we get to see them mature as the book progresses. One of the things I really liked about this is that Benjamin Alire Sáenz writing matured as the boys got older, I think this was a nice little touch that the author added which made the book so much better.
in a lot of books, we either see very little parents or not at all. However, this book we get to see both Aristotle, who prefers to be called Ari, and Dante's parents throughout the novel, both of their parents play important roles in the boy's lives and help them understand themselves better as they get older.
something I really liked about this book is that the who main characters, even though they're both Mexican-American, they both feel differently about their culture. Aristotle is very proud of his ethnicity while Dante as comfortable with it. I think this is something really interesting that the author added in.
this book had so many beautiful lines, some of my favourite lines in this book are
"I got to thinking that poems were like people. Some people you got right off the bat. Some people you just didn't get–and never would get."
I thought this line was such a beautiful line and something that I could honestly relate to. I thought this was a really nice way to explain people and trying to understand people.
"Sometimes, you do things and you do them not because you're thinking but because you're feeling. Because you're feeling too much. And you can't always control the things you do when you're feeling too much."
this novel is filled with so many beautiful and emotional quotes, which is one of the main reasons why I love this novel.
overall this book is such a heartwarming, lovely read, and it included quite a few relatable things.
let me know if you've read this book and what you thought of it in the comments!
Yasmin xx