Hi,
I'm not going to say I read a lot this month because that would be lying. But then again I read a decent amount.
However, it seems that I read a lot. This will make a lot more sense as you continue to read this post.
---
Burn for Burn
Author: Jenny Han and Siobhan Vivian
Genre: Contemporary
Number of Pages: 356
Release Date: September 18th, 2012
My Rating: 2.5/5 stars
I was really excited to start this book, as I've heard so many good things about Jenny Han's novels. I was sadly disappointed. I predicted the ending of the novel and I found the characters quite annoying. I might still read some of her other books because I don't want to give up on her just yet.
---
Harley Quinn, Volume 1, Issues 1-13
Authors/Artists: Karl Kesel, Terry Dodson, and Rachel Dodson
Genre: Sequential Art / Comics / Graphic Novels / Superheroes
Number of Pages: 20-24 pages each, over 200 pages total
Release Date: December 2000 – May 2001
My Rating: 4.-5/5 stars
I've been wanting to read some of the DC comics for a while now but I'd never had a reason too. After watching Suicide Squad I really wanted to understand why Harley Quinn fell in love with the Joker. So I picked up the comics.
I have flown through each issue and enjoyed every single one of them, they're so fun and easy to read. I love Harley Quinn's character, I love her friendship with Poison Ivy. I think I have a bigger appreciation for Harley after I read the first few issues than after I watched Suicide Squad.
Goodreads counts each of these issues as an individual book. Which is good for my yearly reading challenge, but it just doesn't make sense.
---
Simon v. The Homo Sapiens Agenda 
Author: Becky Albertalli
Genre: Contemporary
Number of Pages: 303
Release Date: April 7th, 2015
My Rating: 5/5 stars
Words cannot begin to explain how much I enjoyed reading this book. The entire time I felt so happy, the novel kept me laughing yet vulnerable, I got attached to Simon so quickly which was a really amazing thing. I can't wait for Becky Albertalli to release new novels so I can read them because her writing is honestly amazing.
---
The Problem with Forever
Author: Jennifer L. Armentrout
Genre: Contemporary
Number of Pages: 474
Release Date: May 17th, 2016
My Rating: 4.5/5 stars
Before I read this book I was told that this book will make me very emotional, and every single person who told me that was right. It was amazing to see Mallory's character strengthen as she becomes more and more confident over the course of the novel.
---
Breathing Under Water
Author: Sophie Hardcastle
Genre: Contemporary
Number of Pages: 310
Release Date: July 12th, 2016
I've only read a very small amount of this book this month, so I can't say too much on it. But I really like the writing style.
---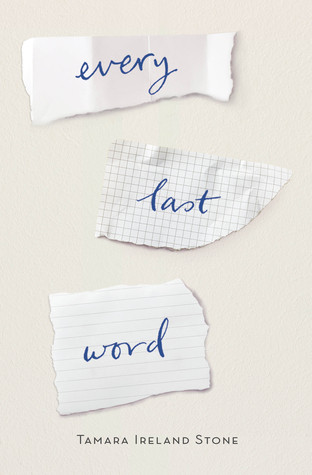 Every Last Word
Author:Tamra Ireland Stone
Genre: Contemporary
Number of Pages: 368
Release Date: June 16th 2015
I'm only twenty percent through this novel and I'm already loving it. Words cannot begin to explain how much I've learned because of this novel and how much I've grown to appreciate the fact that I don't have a mental illness. I know people who have read this book and said that it was an accurate representation of what it's like to have a mental illness especially obsessive compulsive disorder.
---
So that's what I read this month, let me know what you've read and if you've read or want to read any of the books I've mentioned.
Yasmin xx