Hi,
I'm pretty proud of what I've read this month, three books, which is always my goal. This month I also received two books for review which is super exciting.
Anyway lets get into the wrap up…
---
All The Bright Places
Author: Jennifer Niven
Pages: 388
Published: January 6th 2015
Genre: Contemporary
Synopsis:

"The Fault in Our Stars meets Eleanor and Park in this exhilarating and heart-wrenching love story about a girl who learns to live from a boy who intends to die.
Soon to be a major motion picture starring Elle Fanning!
Theodore Finch is fascinated by death, and he constantly thinks of ways he might kill himself. But each time, something good, no matter how small, stops him.
Violet Markey lives for the future, counting the days until graduation, when she can escape her Indiana town and her aching grief in the wake of her sister's recent death.
When Finch and Violet meet on the ledge of the bell tower at school, it's unclear who saves whom. And when they pair up on a project to discover the "natural wonders" of their state, both Finch and Violet make more important discoveries: It's only with Violet that Finch can be himself—a weird, funny, live-out-loud guy who's not such a freak after all. And it's only with Finch that Violet can forget to count away the days and start living them. But as Violet's world grows, Finch's begins to shrink.
This is an intense, gripping novel perfect for fans of Jay Asher, Rainbow Rowell, John Green, Gayle Forman, and Jenny Downham from a talented new voice in YA, Jennifer Niven."
I'm still not sure how I feel about this novel. I picked it up as it came in my recommendations in goodreads then I requested it from my local library. I've spent ages thinking about this novel and how I feel about it but I just don't know.
I gave it a 2.5/5 stars
---
Under The Dusty Moon
Author: Suzanne Sutherland
Pages: 272
Published: January 16th 2016
Genre: Contemporary
Synopsis:

"She's with the band, whether she likes it or not.
Victoria Mahler is the sixteen-year-old only daughter of rocker Micky Wayne, whose band, Dusty Moon, took the world by storm when Micky was just a teenager. The band broke up under mysterious circumstances, but, after years spent off the road being a mom, Micky's solo career is finally starting to take off.
When an offer to tour Japan falls into her mom's lap, Vic is left to spend the summer under the care of her distant grandmother, and without her built-in best friend. Fortunately, a boy with a secret geek side and a group of feminist game-makers save the season, and Vic starts to see herself as her own person, out from under her mother's shadow.
But when Micky finally comes home — with a poorly chosen boyfriend in tow — all bets are off. Will Vic be able to maintain her newfound sense of self amidst the building thunder of Micky's second chance at stardom? And through it all, will Micky still really be her best friend?"
This was the first book I ever received for review, so I was excited about that. If you want to know my thoughts on this book I have a spoiler free review on my blog.
I gave it a 4/5 stars
---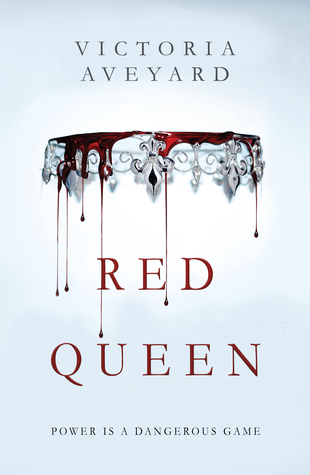 Red Queen
Author: Victoria Aveyard
Pages: 383
Published: February 10th 2015
Genre: Fantasy
Synopsis:

"blood – red or silver.
The Reds are commoners, ruled by a Silver elite in possession of god-like superpowers. And to Mare Barrow, a seventeen-year-old Red girl from the poverty-stricken Stilts, it seems like nothing will ever change.
That is, until she finds herself working in the Silver Palace. Here, surrounded by the people she hates the most, Mare discovers that, despite her red blood, she possesses a deadly power of her own. One that threatens to destroy the balance of power.
Fearful of Mare's potential, the Silvers hide her in plain view, declaring her a long-lost Silver princess, now engaged to a Silver prince. Despite knowing that one misstep would mean her death, Mare works silently to help the Red Guard, a militant resistance group, and bring down the Silver regime.
But this is a world of betrayal and lies, and Mare has entered a dangerous dance – Reds against Silvers, prince against prince, and Mare against her own heart…"
I brought this book late last month from the airport as we were coming back from Wellington. Surprisingly airport bookshops sell reasonably priced books, for New Zealand, and have a somewhat reasonable range of books, for New Zealand. I brought Red Queen for $20. It was a small edition, I prefer the smaller copies because they are easier to hold. I showed Emily, my best friend, the book and she said she'd just finished it the day before and she loved it. Naturally I had to start reading it.
I honestly can't express how much i enjoyed this book. I read it in two sittings, which is rare for me. I seriously recommend this to everyone.
I gave it a 5/5 stars
---
So that's what I read during October 2015.
Comment down below if you've read or want to read anyof the books I've just mentioned.
Thank you for reading.
Yas xx