Hey,
This month I am pretty proud of the amount of reading I've done, I always am, but this month I am more proud than usually, I think it's because of my recent reading slump,
I read three books this month, to some of you that's nothing, but I really enjoyed the books I read this month.
So let's get into the wrap up
---
Legend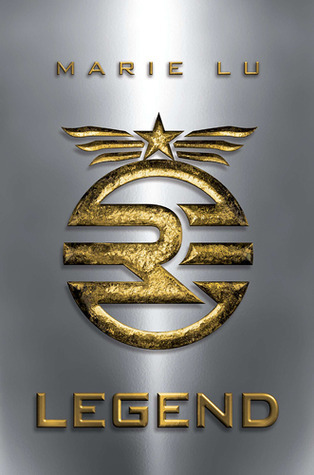 Author: Marie Lu
Pages: 305
Published: November 29th 2011
Genre: Science Fiction/Dystopia
Synopsis:
"What was once the western United States is now home to the Republic, a nation perpetually at war with its neighbors. Born into an elite family in one of the Republic's wealthiest districts, fifteen-year-old June is a prodigy being groomed for success in the Republic's highest military circles. Born into the slums, fifteen-year-old Day is the country's most wanted criminal. But his motives may not be as malicious as they seem.
From very different worlds, June and Day have no reason to cross paths—until the day June's brother, Metias, is murdered and Day becomes the prime suspect. Caught in the ultimate game of cat and mouse, Day is in a race for his family's survival, while June seeks to avenge Metias's death. But in a shocking turn of events, the two uncover the truth of what has really brought them together, and the sinister lengths their country will go to keep its secrets."
I brought the entire Legend trilogy a few months ago due to constant hype from my best friends. For some reason I'd been pushing them aside and told myself I'd read them later, at one point early this month I had no books from the library and decided to pick up Legend. Honestly I really enjoyed this book, but not as much as I've enjoyed The Young Elites by Marie Lu. This book had a very interesting plot. I also enjoyed the dual points of view, I know a lot of people don't like them but I like to know what the other characters are feeling.
I rate this book a 4.5/5 stars
---
A Work In Progress
Author: Connor Franta
Pages: 212
Published: April 21st 2015
Genre: Autobiography/Memoir
Synopsis:
"In this intimate memoir of life beyond the camera, Connor Franta shares the lessons he has learned on his journey from small-town boy to Internet sensation so far.
Here, Connor offers a look at his Midwestern upbringing as one of four children in the home and one of five in the classroom; his struggles with identity, body image, and sexuality in his teen years; and his decision to finally pursue his creative and artistic passions in his early twenties, setting up his thrilling career as a YouTube personality, philanthropist, entrepreneur, and tastemaker.
Exploring his past with insight and humor, his present with humility, and his future with hope, Connor reveals his private struggles while providing heartfelt words of wisdom for young adults. His words will resonate with anyone coming of age in the digital era, but at the core is a timeless message for people of all ages: don't be afraid to be yourself and to go after what you truly want.
This full-color collection includes photography and childhood clippings provided by Connor and is a must-have for anyone inspired by his journey."
I loved this book. In my fourteen years of life I've probably read about three to four memoirs, what I've found is that it's a very descriptive story about their lives. Now Connors book had that description but it had a different feel to it, maybe it's because he's young, but the way he told his stories were so interesting. I loved the images inside the book, they made it feel more personal. I also liked that at the end of most chapters, well during the chapters, he had a lesson like; self-confidence, accepting who you are, doing what you love and many more. I think that these little lessons impacted me a lot, they really made me sit back and think.
I rate this book a 5/5 stars
---
Eleanor and  park
Author: Rainbow Rowell
Pages: 328
Published: February 26th 2013
Genre: Contemporary
Synopsis:
"Two misfits.
One extraordinary love.
Eleanor… Red hair, wrong clothes. Standing behind him until he turns his head. Lying beside him until he wakes up. Making everyone else seem drabber and flatter and never good enough…Eleanor.
Park… He knows she'll love a song before he plays it for her. He laughs at her jokes before she ever gets to the punch line. There's a place on his chest, just below his throat, that makes her want to keep promises…Park.
Set over the course of one school year, this is the story of two star-crossed sixteen-year-olds—smart enough to know that first love almost never lasts, but brave and desperate enough to try."
I had a feeling I'd like this books, as I enjoyed Fangirl, but I didn't realise that I'd fall in love with this book. I've been in a reading slump for a while now and I haven't been able to read a lot of things that get my emotions bubbling like this book did. A lot of people describe this book as a cutesy contemporary but to me it wasn't. I can't reveal too much without spoiling but it wasn't just a cute romance novel, it was an amazing emotion journey that the main characters go though.
I think I might do a full spoiler review on this book soon because seriously I love it so  much.
I rate this book a 5/5 stars
---
So that was my September wrap up.
I hope you enjoyed it, thank you so much for reading.
Yas xx